ANNUAL SCHOOL SAFETY CONFERENCE
On Thursday, March 21, 2019, the New York State Leadership Group co-sponsored a School Safety Conference on the campus of SUNY Buffalo. With a participation number of nearly 1500, attendees were updated by the United States Secret Service National Threat Assessment Center on the latest practices involving creating higher levels of school security.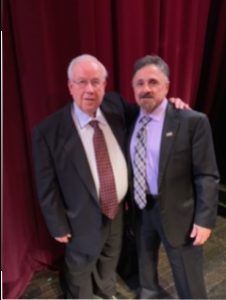 The highlight of the conference was an informative and emotional presentation by Frank DeAngelis, Principal of Columbine High School when in April, 1999 a total of 12 students and 1 teacher were killed. (Pictured is Robert Christmann, NYSLG Executive Director on the left and Frank DeAngelis on the right.) Frank's two hour summary of that tragic day and its aftermath provided many enlightening insights in the school safety issue. His comments ended with a standing ovation from the large number of school staff and law enforcement personnel who attended. The New York State Leadership Group has made addressing school safety issues one of its organizational priorities.